Established in 1917, Pangbourne College has a wonderful history to celebrate and many unique traditions to be proud of.
Sir Thomas Lane Devitt founded Pangbourne College as 'The Nautical College, Pangbourne' with a vision to train boys to become Merchant Navy officers. Whilst this was the primary purpose of the school, he and his son Sir Philip Devitt were also committed to providing a well-rounded education for the boys to enable them to pursue other career options if they changed their minds about going to sea.
In 1969, the College adopted the name it has today and shifted its focus to academic progress. The captain superintendent was replaced with a civilian headmaster to reflect this, and in 1996 the College became co-educational.
---
Flag Values
Pangbourne College has adopted eight Flag Values which underpin everything we do as a nurturing, pupil-centred community:
Kindness
Resilience
Selflessness
Moral Courage
Integrity
Initiative
Industry
Respect
It's through this outlook that we are able to develop valuable skills in our pupils, such as, teamwork, leadership, self-discipline, and service to others, inspiring them to become positive contributing citizens.
---
Naval Traditions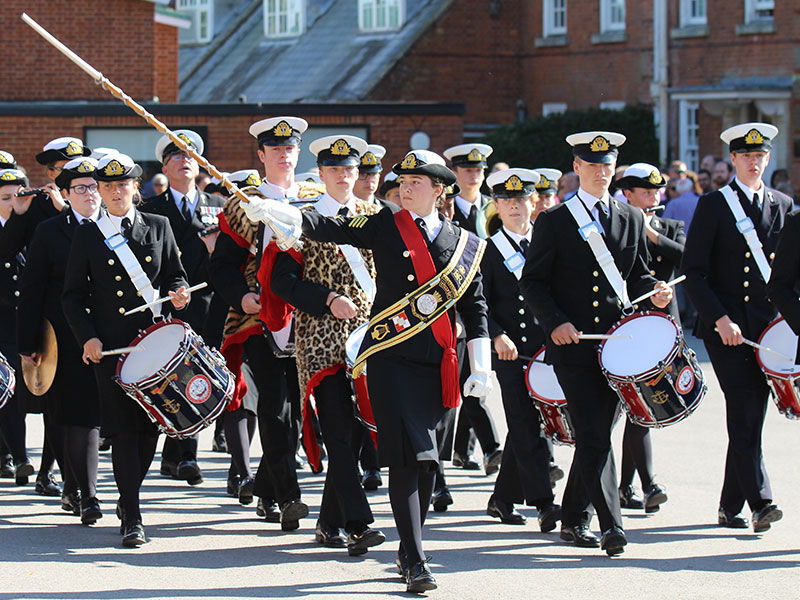 Make no mistake: Pangbourne College is not a military school. Only two or three of our leavers each year go into the armed forces, but we do proudly pay tribute to our naval roots through preserving a number of traditions.
Whilst the term 'cadet' to refer to pupils has not been used for many years, Pangbourne pupils continue to wear naval uniform to school on a daily basis along with the traditional rank slides of a Royal Navy cadet.
Jargon around the College also reflects our naval legacy, with 'cabins' used to refer to dorm rooms, 'gunrooms' instead of commonrooms, 'galleys' instead of kitchens and 'divisions' instead of houses.
Nautical traditions are also reflected in a continual focus on water-borne sports such as rowing and sailing.
Six times a year the College hosts a 'College Sunday' during which pupils wear formal attire and perform as a guard, in the Marching Band or march as a College. This culminates on 'Founders' Day' with the ceremony of 'Beat Retreat' where our current community and alumni bid farewell to the Upper Sixth. The video below shows highlights from Founders' Day 2022.
---
The Falkland Islands Memorial Chapel
In 2000, Queen Elizabeth II opened the Falkland Islands Memorial Chapel on Pangbourne College's campus - chosen for its naval history and to pay tribute to the 47 Old Pangbournians who served in the Falklands War of 1982. The Chapel commemorates the courage and sacrifice of those who served during the conflict.
Sunday services are held weekly in the Chapel as part of College life, and Remembrance Sunday is commemorated here in November. Each June, veterans of the Falkland Islands conflict and their families are welcomed back for a Remembrance Service.